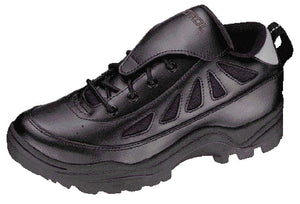 This is the best bike patrol shoe on the market!  These shoes were designed with the bike patrol rider in mind.  Unlike most cycling shoes, the front part of the PSM820 is pliant and allows for walking and running performance similar to a recreational shoe. The outsole has an aggressive tread pattern for positive traction on most surfaces.
They feature quality construction that includes a soft, full grain leather with Cordura panels, hard-wearing upper and a natural rubber outsole; sporty and breathable, yet  traditional-looking upper that is easy to polish; large, 3M reflective rear tab; and  and innovative shoelace keeper. The co-molded midsole is rigid for maximum pedaling efficiency under the ball of the foot through the heal area.
Note:  The PSM820 shoe sizes are very limited so please email (bpopatrol@yahoo.com) or call us (951-318-7341) to check on the availability of the specific size you are interested in purchasing.