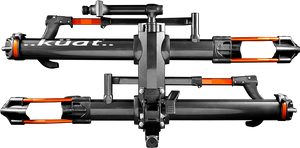 2 bike capacity up to 60 lbs each.  (Note: weight capacity drops to 40 lbs per bike with 4 bikes set-up).
Rack weighs 52 lbs.
Fits 20" to 29" tires (20"-24" wheels will require adapter)
Hitch lock included.
Available in both 2" and 1.25" hitch sizes.
Holds wheelbase up 48" and tires as large as 5" with use of (Phat Bike Kit)
E-Bike Ramp is available (additional cost).
Can add the NV 2.0 Add-On for a 4 bike carrier (additional cost).