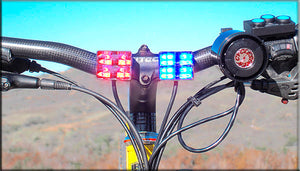 CycleSiren offers full-featured bike patrol lighting and siren systems.  They are built from the ground up for toughness, reliability and performance expected by law enforcement and other public safety professionals. CycleSiren's lights have been used worldwide by Police, Sheriff, Military, EMS and Security departments.
CycleSiren lighting systems are lightweight and watertight.  The LED lighting is high-visibility for daylight viewing. The handlebar mounted tactile switch-box controls the siren sounds and lighting functions, including the optional taillight. The siren audio output power meets or exceeds the 115dB level required for a bike patrol siren (115dB SPL at 3 feet). The sound modes include Wail and Yelp, or Hi-Low and Yelp.  The phaser and horn or whistle sound combinations are programmable by the rider.
CycleSiren's custom manufactured sirens and lighting equipment are constructed with pride in the U.S.A.   CycleSiren warranties the Patrol Mini-Siren for one year and the battery for 90 days.
The Patrol Mini-Siren System includes:
Lightweight - 1.1lbs, including battery
Daylight viewing Red & Blue LED strobes with a luminous intensity is 108/72 candela, respectively. The white LED street light luminous intensity is 500 candela. EMS Red & White and All Blue color combinations are also available for lighting options.
Built-in battery voltage indicator and located on the handlebar remote control, will light to indicate a low voltage battery
Sealed tactile push-button switches operate the sound & lighting modes, including the optional taillight
User programmable sound mode combinations: Wail, Yelp, Phaser, Hi-Low, Whistle, Horn and more
Average sound level is115dB SPL at 3 feet
Watertight siren & lighting housing and switch-box
Waterproof circuit boards
Mini-Siren operating temperature range between 32°F and 110°F
Taillight: Comes in  Red/Blue, Red/Amber, All Red, or All Blue 
Housing Color: Matte Black
Wail:  620Hz to 2500Hz
Yelp:

 

620Hz to 2500Hz
Phaser:

 

620Hz to 2500Hz
Hi-Low: 620Hz to 2500Hz
Horn:

 

500Hz to 800Hz range