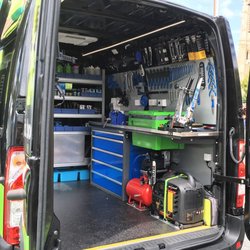 Our professional bike mechanic will drive to your job site with our mobile bike shop to complete the bicycle maintenance and/or repairs in the 12-month service contract (see below).
Four bicycle tune-ups, repairs and/or adjustments.  This service includes, but is not  limited to, the following:
           - Conduct an overall safety inspection of each bike,
           - Repair and/or adjust brakes,
           - Replace brake pads (if applicable),
           - Correct shifting issues,
           - Tighten or replace loose or missing nuts and bolts,
           - Ensure pedals are properly tightened,
           - Ensure cranks are working properly,
           - Ensure bottom bracket is working properly,
           - Check headset,
           - Inspect front suspension (if applicable),
           - Inflate tires to proper PSI,
           -  Inspect chain wear,
           - Clean and lube drivetrain, and
           - True wheels 
Repair up to four (4) flat tires. This service includes four (4) XLC Schrader or Presta valve boxed inner tubes (XLC thorn resistant inner tubes extra).

Replace up to two (2) damaged tires.  This service includes the installation of 

one set of Serfas "Drifter" tires.

Replace one (1) wheel (wheel is not included)

 
Note:  All brake & shifter cables & housing, brake ferrules, cable tips, cable noodles/pipes and brake pads (V-brakes only) are included.
After our mechanic has completed all the necessary maintenance and/or repairs, he will conduct a thorough test ride, in the presence of one of your designated employees, to ensure the work he has completed is done to your satisfaction.
Any exceptional repairs that are required but not covered in this service agreement will discussed with the client before any work is completed, unless a prior arrangement is agreed upon.
All parts that are not included in this service contract are discounted off the manufacturer's suggested retail price (MSRP).