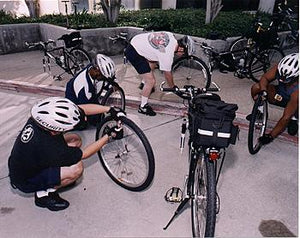 Bicycle Patrol Outfitters (BPO) Training Division's philosophy was developed with quality training at its foundation to ensure professionalism in the law enforcement, public safety and security bicycle patrol industries.  Our instructors are certified by the California Peace Officers' Standards & Training (POST). 
BPO's lead instructor has helped design customized bicycle patrol training courses for several public law enforcement/safety departments and private security companies including Snap Inc., Boeing, Raytheon Communications, Pinkerton Security Services, Rank Investigations, Stonewood Mall,
Allied Barton Security, California State University at Northridge Parking Department, Grossmont-Cuyamaca Department of Public Safety, California State University at Los Angeles Parking Department, and the University of San Diego Department of Public Safety.  References are available upon request.  
Should you decide to contract with Bicycle Patrol Outfitters for your bicycle patrol training, we will work closely with you to develop a quality training program that will best suit your team's needs.  Training sites include Los Angeles county and San Diego county.  We can also provide training at your work site.  However, additional per diem costs would apply to all out-of-county training courses (travel, hotel & incidentals).  Please call us for more information (951) 482-5882.  Note: There is a $500 cancellation fee if the training is cancelled less than 5 days prior to the scheduled training start date. 
Our 1-day Basic training course is designed to teach bicycle patrol personnel the following basic skills and techniques.
Basic Riding Skills
Slow speed riding techniques
Braking techniques
Proper gear selection
Mounts & dismounts
Negotiating obstacles & riding on various surfaces
Traffic Safety and Accident Prevention
Basic Maintenance (tire repair and chain maintenance)
Pre-Ride Safety Checks
Surveillance Techniques
Safety Equipment
Public Relations
Requirements:
Each participant must have their own bicycle to participate in this training (no bike sharing).  Bicycles must be in excellent working condition prior to the start of the class.  Minimally, tires shall be in excellent condition, both brakes and shifters must work properly, and there can be no major mechanical problems with the bike.  Students are required to wear the following safety equipment at all times when riding in the class:
A certified bike helmet (ANSI, Snell, CPSC)
A pair of 3/4 or full finger riding gloves  
Each student must complete a release of liability form prior to participating in this training course.  You may download this form in the Bicycle Training section of this site.  Please note, this course is not designed to train a student how to ride a bicycle for the first time.  Students are expected to minimally know how to ride a bike as well as the basic operations of a mountain bike.
Recommendations:
Students are strongly encouraged to wear the following during the riding portions of the training class:
Shatter-resistant safety/sunglasses
Stiff-soled bicycle patrol specific bike shoes such as Patrol Cycle shoes, etc.
Bicycle patrol specific uniforms such as Mocean, Olympic Uniforms, 5.11, etc.
Tuition:
$225.00 per person with a minimum of  5 or more students, or $1,500.00 flat fee for 4 or fewer students
Additional Fees:
There may be additional fees for diem costs for courses taught outside California.  Please call us for details.